Super excited for this show on thursday night.
BRAVE NEW WORLDS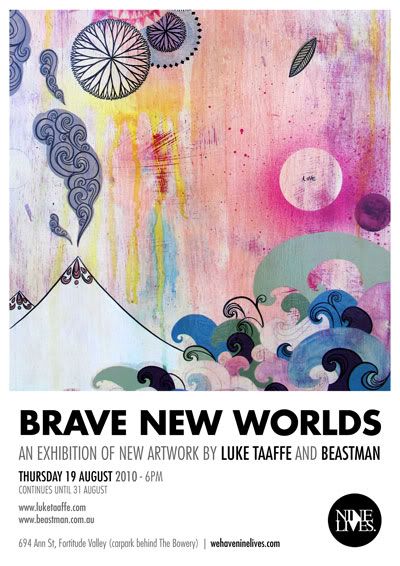 An exhibition of new artwork by BEASTMAN and LUKE TAAFFE.
After many years of friendship, these now established and prolific Australian artists are coming together for an exhibition exploring their two very distinct artistic styles, featuring paintings that portray alternate worlds, their inhabitants and surrounding natural environments.
Opening Night - Thursday 19 August 2010 6pm Continues until 31 August
Luke Taaffe.
Luke Taaffe is an Artist & Designer from Wamberal on the NSW Central Coast. Currently relocated to Torquay (Victoria) working for women's clothing label Roxy, Luke's flowing and detailed work represents a life living by the ocean and the popular culture associated with it. His work is a colourful and personal journey that reflects a world absorbed by saltwater and the energy around it.
With a love of 60's pop culture, vintage signage, clothing and the Australian coastline as influence, Luke's work which is usually presented on recycled timbers is gaining attention both in Australia and abroad. He is also a partial insomniac preferring to squeeze as much in a day as possible.
www.luketaaffe.com
Beastman.
Beastman is an artist based in Sydney. Influenced by the beauty and symbolism behind nature's repetitive geometric patterns and its eternal struggle against man-made adversities, Beastman's tightly detailed, symmetrical paintings depict a parallel world of hope and survival inhabited by his scaly-skinned, beastlike yet beautiful and emotive characters. These instantly recognisable and loveable creatures reflect human nature and the everyday burdens and struggles of life that mankind so easily and continuously finds itself lost in.
Beastman has exhibited extensively throughout Australia, as well as London, Berlin and New Zealand. Beastman is an Element Advocate, he was recently commissioned to paint the frontage of the 4ZZZ building in Brisbane and is also the founder and editor of the Australian online art publication [weAREtheIMAGEmakers].
www.beastman.com.au
----------------------------------------------------------------------------------------------
On a side note, if you havent already seen the 4zzz building that beastman has painted, you really should get yourself down there to appreciate it at full size. Truly amazing.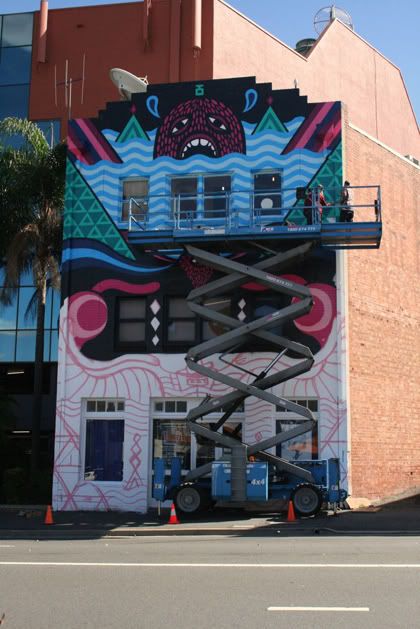 Photos courtesy of the
4zzz.