Defiantly a collectors item.
Jim Houser
besides making amazing artworks, makes tunes also.
"for the last 10 or so years, making music has always been the place that i turned when the paintbrush wasn't working for me. i found that even when i was burned out from making art, the act of sitting and making music would allow me not to feel like a waste of time and space.

i came to realize that this was part of my whole process, so i began to incorporate those sounds into the installations i do in a gallery, to represent EVERYTHING i made during the last 6 months or so, not just the visual art. and i was very happy with how the sounds accompanied the sights. my music found a home in my artwork. this record represents the best bleeps and bloops and thuds and screeches and crashes from the past 2 years of art shows, condensed and recorded at home into 6 short songs. just like my paintings : heartfelt and repetitive."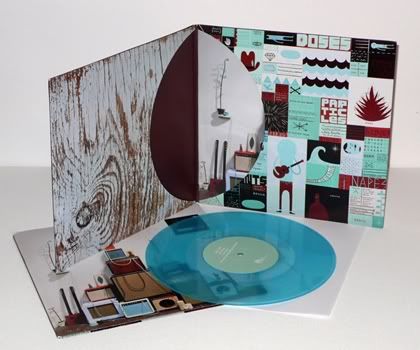 Six-track 10" vinyl record and a 16 page collector booklet.
Go and get a
copy on vinyl here:
Itll be out on itunes soon.