Can't help myself... everyone should own a copy of Beautiful Losers!
Beautiful Losers film trailer from beautifullosersfilm on Vimeo.
"Make Something From Nothing"
"In the 1990s, a loose-knit group of American artists and creators, many just out of their teens, began their careers. Influenced by the popular underground youth subcultures of the day, such as skateboarding, graffiti, street fashion and independent music, artists like Shepard Fairey, Mark Gonzales, Spike Jonze, Margaret Kilgallen, Mike Mills, Barry McGee, Phil Frost, Chris Johanson, Harmony Korine, and Ed Templeton began to create art that reflected the lifestyles they led. Many had no formal training and almost no conception of the inner workings of the art world, learning their craft through practice, trial and error, and good old-fashioned innovation. Not since the Beat Generation have we seen a group of creative individuals with such a unified aesthetic sense and varied cultural facets. The world of art has been greatly affected by their accomplishments as have the worlds of fashion, music, literature, film, politics and, ironically, athletics. Over the years, the group has matured, and many have become more establishment-oriented; but no matter, their independent spirit has remained steadfast"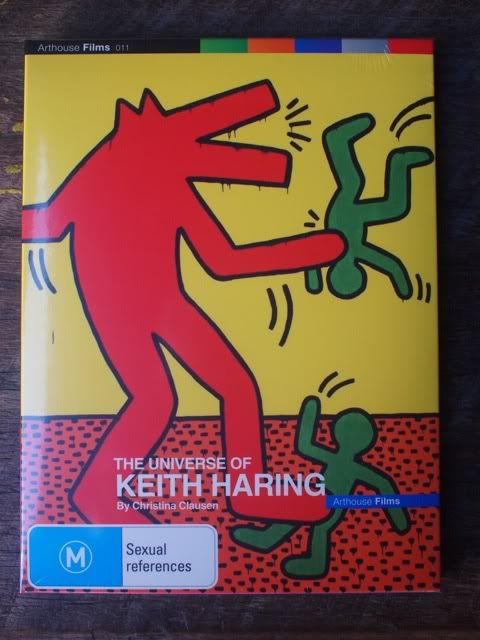 "Keith Haring's legacy is all around us. His images are everywhere: on walls, posters, T-shirts, watches - in our memories and imaginations; modern icons. "Art is for everyone!" - this is how Keith Haring put it when he summed up the meaning of his stylized silhouettes with which he decorated streets all over the world. A veritable soul who revolutionised contemporary art over the space of a single decade (1980-1990).
Perhaps the most celebrated personality in the decade of personalities, the 1980s, he built his reputation - as painter, graffiti artist, designer - outside the closed world of the art establishment, amidst the vitality of street culture.
A casualty of the AIDS epidemic at only 31, Haring had already blazed a trail far beyond his American birthplace; from Amsterdam to Australia, Rio de Janeiro to Tokyo."
"The Directors Label Series highlights the work of the filmmakers who have helped to redefine music videos and filmmaking over the last decade. Each volume in the Directors Label compiles music videos, shorts, commercials, documentaries, as well as a variety of exclusive features, never-before-seen rare footage, and unreleased audio and video commentary. Each release includes a 56 page book created by the Director and full of personal photos, notes, drawings, storyboards and personal insights. When you experience The Work of Director Spike Jonze, you enter a world where anything can happen and frequently does. From the innovative director of Being John Malkovich and Adaptation., this superior compilation of music videos, documentaries, interviews, and early rarities offers abundant proof that Jonze is the real deal--a filmmaker ablaze with fresh ideas and fresh ways of filming them. Featuring The Beastie Boys, Bjork, Weezer, The Pharcyde, Fatboy Slim and many others."
"A Candid History of the New York Art Scene, 1940-1970"
"Originally released in 1973 but never before available on DVD, PAINTERS PAINTING is the definitive documentary on the New York School of painters, from 1940-1970. Director Emile de Antonio (Point of Order and Millhouse) interviews artists in their studios about their art from the period of Abstract Expressionism, through Hard Edge and Color Field painting to Pop Art. Among the featured painters are Robert Rauschenberg, William de Kooning, Jasper Johns, Andy Warhol, Helen Frankenthaler, Frank Stella, Barnett Newman, Hans Hoffman, Jules Olitski, Philip Pavia, Larry Poons, Robert Motherwell, and Kenneth Noland.
PAINTERS PAINTING is newly digitally remastered and restored by the Museum of Modern Art (New York) and the University of Wisconsin Film Department."
http://the-outpost-store.blogspot.com/