How good...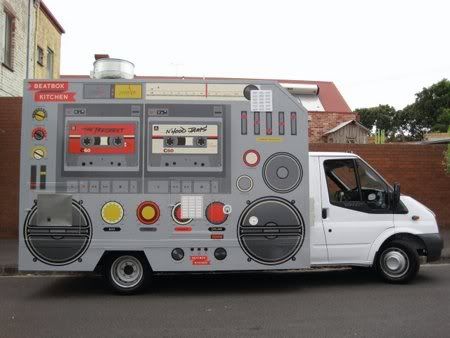 "It can be stated quite categorically that the terms 'food van', 'gourmet' and 'hip-hop' are rarely heard in the same sentence, until now that is. Previously known for his entrepeneurial credentials in the
fashion
,
music
and
publishing
games, ideas man Raph Rashid's latest and greatest venture looks set to top the lot and delightfully confound pigeon-holers the world over.
Beatbox Kitchen is Raph's take on a mobile diner, with a hand-held comfort-based menu put together with Wu-like scientific attention to detail. There are grain-fed Raph Burgers with stereo sauce (I'm claiming best burger in Melbourne), pan-fried chicken schnitzel wraps, portabello 'shroom burgers for the vegos and the Eddy Current -endorsed dessert - Cool Ice-cream brownie/ice-cream sandwiches, all washed down with a sweet chai shake. Raph has spent years perfecting this menu, sourcing ingredients and testing on an appreciative and ever-expanding list of friends and family. Burp!
The icing on the cake is that the van looks like a huge freakin' ghetto blaster, complete with 'ejecting' tape deck service windows and genius custom detailing by partner-in-crime Beci Orpin."
The above text was taken from my mate
Max's
piece for
THREETHOUSAND.COM.AU