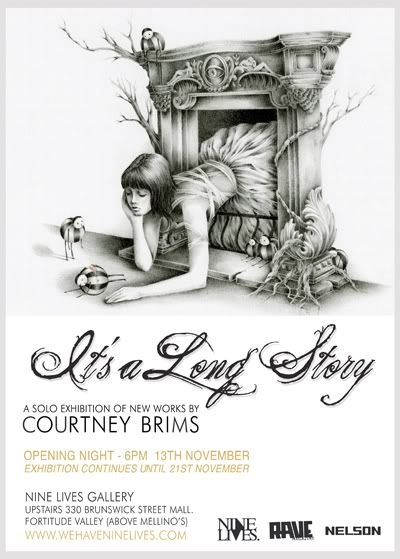 It's a Long Story.
A solo exhibition of new works by Courtney Brims
Last year saw solo shows at Sydneys'
Monster Children Gallery
via the
Mooks Artspace
and then earlier this year in Los Angeles at
Black Maria Gallery
. Now we are excited to present 'It's a long Story', a solo exhibition of new works by Brisbane's own Courtney Brims.
If your unaware of Courtney's work, here is a bit of an insight.
Courtney Brims is a self-taught, Brisbane-based artist who attended the Queensland University of Technology and graduated in 2005 with a degree in interior design. After working as an interior designer for two years she turned her passion for drawing into a career. With a love for all things unusual, Courtney draws inspiration from her surroundings, dreams, memories, music and Victorian illustrators such as Arthur Rackham and J.M. King.
"I see my pictures as bittersweet, delicate and detailed. They are dreamy and a little dark at times. I like to hope that they fill people with a sense of curiosity and nostalgia."
Opening is from 6pm. Be early. If you cant make it Friday, we are open Saturday 10.30am - 4pm & Sunday 11am - 4pm. Then The following week Tues-Sun 11-4. You have to see these works close up to really appreciate the detail!
You can see more of her work here:
courtneybrims.com